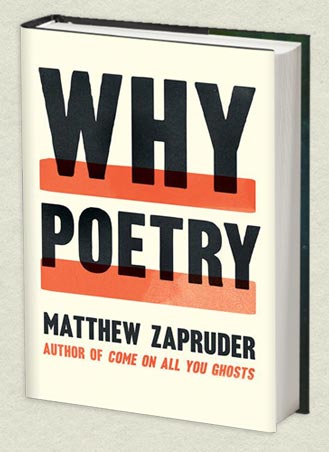 Why Poetry
An impassioned call for a return to reading poetry and an incisive argument for poetry's accessibility to all readers, by critically acclaimed poet Matthew Zapruder
In Why Poetry, award-winning poet Matthew Zapruder takes on what it is that poetry—and poetry alone—can do. Zapruder argues that the way we have been taught to read poetry is the very thing that prevents us from enjoying it. In lively, lilting prose, he shows us how that misunderstanding interferes with our direct experience of poetry and creates the sense of confusion or inadequacy that many of us feel when faced with it.
Excerpt and Review in New York Times Sunday Book Review
The Machine of Poetry (interview + excerpt) at WBUR/Here & Now
Excerpt in Paris Review
"Zapruder's poems have a directness and verve that are reminiscent of Frank O'Hara; they're poems for everyone, everywhere, insisting that everything is subject for poetry, and that all language is poetic language, democratic in its insights and feelings."
(NPR)
"Zapruder is indeed a hip lyricist, one from whom we should look forward to hearing more in the future . . . Zapruder's poems don't merely attempt beauty; they attain it."
(Boston Globe)
"In many ways a marvelous book … [Why Poetry] shows that poetry "connects elements that one wouldn't have expected" to surprise the reader with an awareness of associations perhaps not quite in the range of conscious thought." (Publishers Weekly)
ABOUT THE AUTHOR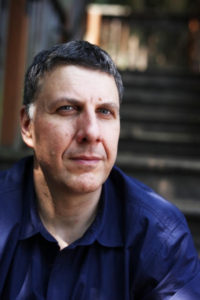 Matthew Zapruder is the author of four collections of poetry, most recently Come On All You Ghosts (2010), a New York Times Notable Book of the Year, and Sun Bear (2014), both from Copper Canyon Press, as well as Why Poetry, a book of prose, from Ecco Press/Harper Collins in August 2017. An Associate Professor in the MFA at Saint Mary's College of California, he is also editor at large at Wave Books, and from 2016-7 held the annually rotating position of Editor of the Poetry Column for the New York Times Magazine. He lives in Oakland, CA.
Photo by B.A. Van Sise. Download author photo: High Res | Low Res